14 April 2020
Expatriate Car drives fund to aid homeland singers
Music & Opera Singers Trust Ltd (MOST) is assisting internationally renowned powerhouse soprano, Nicole Car, with her project, Freelance Artist Relief Australia. Freelance Artist Relief Australia has been established to bring immediate financial help to Australian classical singers affected by the Coronavirus crisis. Arts venues were among the first institutions to close due to the current pandemic. As of today, nobody knows when it will be possible to perform again. Freelance artists engaged for single projects and performances have seen their contracts annulled and income disappear for the foreseeable future. There is no safety net … and there was no time to prepare. We need to do something to help.
You to can help Nicole Car and MOST support Australia's freelance artists in their time of need.
Please click on the links below to make a tax-deductible contribution:
By Matthew Westwood, Tuesday, 14 Apr 2020 – Page 3
Expatriate Car drives fund to aid homeland singers
The coronavirus pandemic has put Nicole Car's opera career temporarily on hold, but the acclaimed soprano is lending her voice and financial support to other singers who face hardship because of lost income.
Before health restrictions brought down the curtain on arts venues worldwide, Car was due to sing at leading theatres, including the Royal Opera House in London , in a production of La Boheme.
The Melbourne-born singer, who lives in Paris with her husband , baritone Etienne Dupuis, and their son, Noah, 3, says up to 90 per cent of her performance income will be lost this year if theatres remain closed.
Aware of the difficulties faced by Australian freelance singers — the nation's biggest performing arts employer, Opera Australia, has cancelled productions until at least June — Car has started a fund that will offer discretionary financial aid to the needy.
"It all happened so quickly, it was such a shock," Car said of the theatre lockdown. "Everyone in the arts is going to lose their income for the next six months. Our aim is to raise money for freelance artists who may not have access to government help."
The fund, Freelance Artist Relief Australia, has raised $150,000 and Car hopes to reach $1m. Donors include Lonely Planet co-founder Maureen Wheeler, company director Jane Hemstritch and former artist agent Virginia Braden. Car and Dupuis also have made a contribution . The fund is administered in Sydney under the auspices of the Music and Opera Singers Trust, which runs the Australian Singing Competition.
Car had been singing in the final performances of Cosi fan tutte at New York's Metropolitan Opera last month when the lockdown came into force, and she and Dupuis quickly returned to Paris.
Her singing dates have been cancelled in Berlin and London, and her return to Sydney in her role as Tatyana in Eugene Onegin for OA will depend on the Sydney Opera House reopening by July.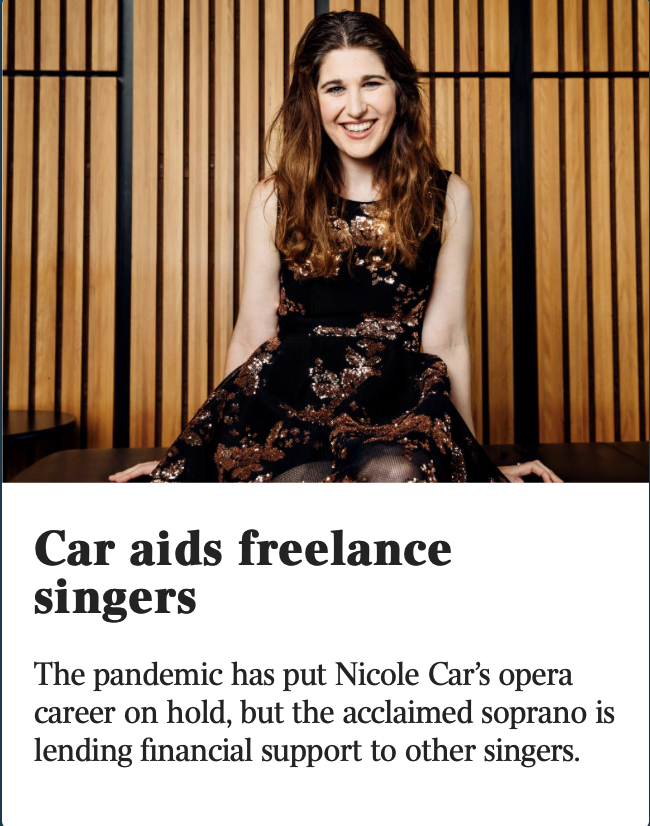 You can see this article at The Australian here:
https://www.theaustralian.com.au/subscribe/news/1/?sourceCode=TAWEB_WRE170_a_GGL&dest=https%3A%2F%2Fwww.theaustralian.com.au%2Farts%2Fcoronavirus-expatriate-soprano-nicole-car-drives-fund-to-aid-australian-singers%2Fnews-story%2Ff3c707b95ebd76d45b427301c47ba57b&memtype=anonymous&mode=premium