20 September 2019
2019 MOST Achievement Award (MAA) Winner is Moffatt Oxenbould AM
Nominated by a panel of industry peers, a MOST Achievement Award (MAA) has been awarded to Moffatt Oxenbould in recognition of his contribution to the development of opera in Australia, which spans a period of more than 50 years. The MAA was presented to Moffatt by Jeffrey Black, Chair of the ASC Music Advisory Committee.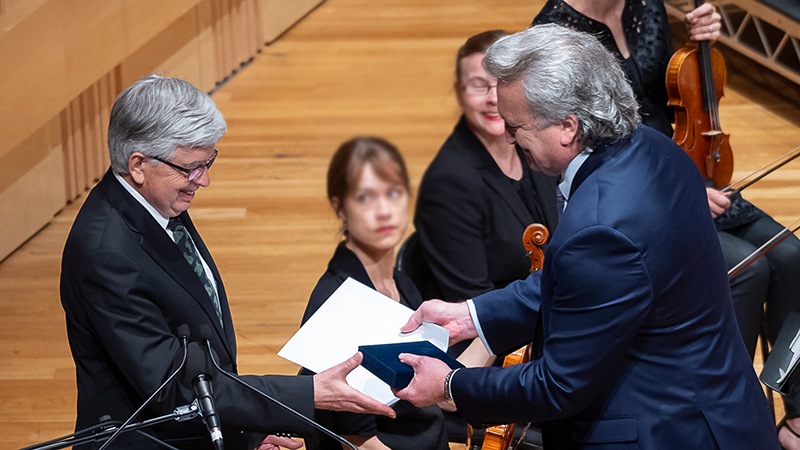 Moffatt's Acceptance Speech
Thank You!
This Award is an unexpected – and sincerely appreciated – honour. I am proud to join a list of four distinguished recipients – three of them having been long – standing colleagues and friends with whom I've shared all sorts of artistic adventures over many years.
Opera is a famously irrational – yet resilient – art form that unites many different artistic disciplines – but good singing is at its core. In an increasingly competitive environment, young singers will always need encouragement and opportunities to refine technique and craft while evolving a unique artistic identity and personality. This need has been creatively met by support from the Music and Opera Singers Trust since its inception in 1982, giving meaningful opportunities to fine Australian and New Zealand singers to realise their potential and have a chance of making dreams come true.
I consider myself privileged to have also had an involvement in this process over the years – endeavouring to provide a congenial and supportive environment in which many artists have been able to give of their best. It is a tough collaborative process – not without pitfalls and disappointments – but it is crucially important to continue to strive for the excellence that the art form, artists and audiences deserve.
It must have been in 1981 that I was one in a small group meeting in Roland Gridiger's office to discuss the launch of a scholarship bequeathed by the late Marianne Mathy. Thirty-eight years later it is both humbling and gratifying to receive an award bestowed by what has grown into a highly respected organisation that continues to play such a worthwhile role in encouraging and assisting classical singers in Australia.
Moffatt's Biography
Moffatt Oxenbould AM
Moffatt Oxenbould's contribution to the development of Opera in Australia spans a period of more than 50 years.
Born in Sydney, he became a Stage Manager with the Australian Elizabethan Trust Opera Company after graduating in 1962 from the Production Course at NIDA. In 1965 he was appointed stage manager for the Sutherland/Williamson Grand Opera Company Australian tour. At its conclusion he took up a stage management position with Sadler's Wells Opera in London and in 1967 returned to the Elizabethan Trust Opera Company which became The Australian Opera in 1970. In 1969 he was appointed Co-ordinator of Planning and worked closely with two Musical Directors, Carlo Felice Cillario and Sir Edward Downes. In 1974 he was appointed Artistic Administrator working with Musical Director Richard Bonynge. In July 1984 Moffatt Oxenbould became Artistic Director of The Australian Opera, later Opera Australia, a position he held until the end of 1999.
Moffatt also directed a number of works for the Company, including Britten's The Rape of Lucretia (1971), Puccini's Trittico (1973), Rossini's Semiramide (1983), Mozart's La Clemenza di Tito based on the production of the late Göran Järvefelt (1991) and a new production of Idomeneo (1994). His production of Madama Butterfly was first seen in 1997 and has been performed in Sydney and Melbourne in successive years and also in Adelaide, Brisbane, Pittsburgh, Montreal and in four cities in China. In 1999 he directed a new production of La bohème and in 2000 directed Verdi's Simon Boccanegra during the Sydney 2000 Olympic Arts Festival. In 2005 he directed Idomeneo for Houston Grand Opera and in 2012 he directed his production of Madama Butterfly for the National Symphony Orchestra in Taipei
In 1985 Moffatt Oxenbould was awarded an AM for his services to opera. In 1986 he was awarded the inaugural Dame Joan Hammond Award in recognition of his important contribution to opera. His production of Madama Butterfly won several Melbourne Green Room Awards in 1998 including best production and direction. He was given a special award for his contribution to opera in the 1999 Green Room Awards and awarded the Opera Australia Trophy at a Gala Celebration of his work with Opera Australia held in the Sydney Opera House in March 2000.To honour his dedication to developing the talents of young Australian artists, Opera Australia named its Young Artists Development Program – The Moffatt Oxenbould Young Artist Program. He was a founding trustee of the Opera Australia Benevolent Fund and its Chairman between 2003 and 2009.
Between 2004 and 2007 he presented a popular weekly opera program on ABC Classic FM, and in November 2005 his memoir – Timing Is Everything – was published by ABC Books. He has also produced and presented several radio documentaries recalling notable artists who have an honoured place in Australia's operatic heritage.
Between 2001 and 2005 he was Chairman of the NIDA Board of Studies – having served on that Board for fourteen years – and was also a member of the Australia Council's Major Performing Arts Board for six years. Between 2014 and 2016 he was a member of the Commonwealth of Australia National Opera Review.