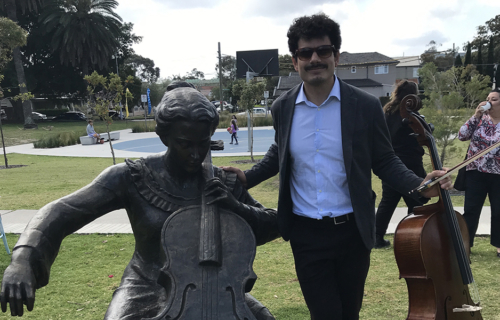 MOST Donated a Public Artwork to Randwick Council
MOST feels very fortunate to be able to facilitate this sculpture donation to Randwick City. The artist Drago Marin Cherina has been a great friend to the MOST organisation. For the past 19 years the Winner of the Australian Singing Competition has received a limited-edition bronze statuette that was sculpted by Drago Cherina.
Drago also created a limited-edition statuette that was awarded at the ABC Young Performers Awards for the first time this year, and will continue to be awarded in future years. Drago created a statuette that was presented to the winner of the Australian Cello Awards, it also depicts Jacqueline du Pré, but it's not quite as big as this one donated to the Randwick community. When Drago sent us this grand and dazzling sculpture, we knew that we couldn't keep it for ourselves.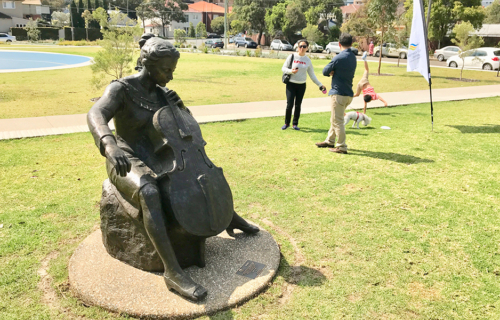 It is too striking to not share with the public! We are honoured to partner with Randwick City Council and provide this beautiful public artwork and I hope that the permanent presence of a bronze Jacqueline du Pré will inspire generations of instrumentalists to spring forth from the suburbs of Randwick! The unveiling ceremony of the sculpture was at the Kensington Community Centre on 23 September 2018, and Australian Cello Awards Finalists Ruben Palma performed at the unveiling ceremony.
We have a long and rich history creating and managing elite music and opera competitions, awards and scholarships on national and international levels (Australia, Europe, Israel, Japan, New Zealand, UK and the USA).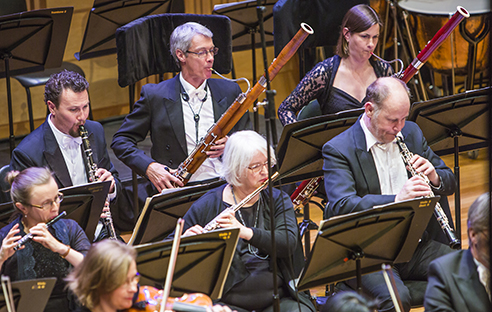 MOST also provides professional management and consultancy services for competitions, events, awards, scholarships, prizes and grants. Since 1982 MOST has contributed millions of dollars in grants, scholarships, tuition, travel, mentoring programmes and other opportunities through a portfolio of activities; as well as audition, performance and education opportunities for thousands of young artists.